Swimming
There is a large pool for both serious swimming and just splashing about.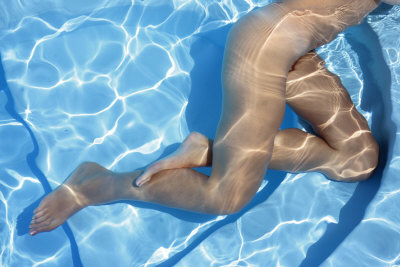 The swimming pool is open from 6.15pm to 8.30pm and there is always a Lifeguard on duty.
---
Sauna

The Sauna cabins are an ideal opportunity to sit, relax and sweat away the cares of the week and the ideal opportunity to make new friends.

As part of naturist protocol it is politely requested that you sit on your towel whilst using these facilities.
The Saunas are open from 6.00pm to 8.50pm.
---
Relaxation in the dance studio
There is a seating area where you can mingle, check out the latest news on the notice board, browse through naturist magazines and holiday brochures or just relax. Coffee, Tea, Squash & Biscuits are also supplied.
---
Gymnasium

Cardiovascular and weight training equipment is available. In the interests of health and safety, suitable clothing and footwear must be worn and you must know how to use the equipment safely.

We regret that children cannot use the gym.
---
Squash Courts
Squash courts are available for use either for playing squash or "knock about" badminton.
When playing squash, in the interests of health and safety, suitable clothing and footwear must be worn
---
Yoga
Once a month, usually on the fourth Saturday but subject to change, we have an hour of yoga between 6:30 and 7:30. This is led by a British Wheel of Yoga teacher.
---
Socials

Hungry?? - We host a themed night after the swim (7.45pm until 9pm) on the second Saturday of the month.
Past themes include:-
National Food Themes
Strawberries and Cream
Food to Share
Fish & Chips
Christmas Parties
Any suggestions are welcome!
---
Dining Club
We also arrange regular meals out at local restaurants (not naturist!). These are very popular and usually attended by around 25-30 members.